Welcome to the official website for the Brushmasters get-a-way 2018! September 12 - 15
Brushmasters Get-A-Way presents, the shin diggy outta the city... The 2018 Kentucky Kustom Paint Hee-Haw! The 4 day, hands on Kustom Paint workshop is located in the beautiful rolling green hills of Stamping Ground, KY. on 30 acres of privately owned farmland so we can boogie all night! Once again, we camp, gather, tell stories, share trade secrets, paint and have a great time out of the daily hustle and bustle of a big city.
As always the Brushmasters Get-A-Way crew of instructors is coming with a punch, we've brought you who we think, are not only some of the best artists in Kustom Kulture, but some of the most humble, talented custom painters from here to Japan, and we can guarantee if you have any interests in custom paint you will not want to miss this!
The 4- Day workshop will include a true hands on experience focusing on Pinstriping, Hand Lettering/Sign painting, Airbrushing, Gold-leafing, Lowrider & Custom Graphics, and Illustration, from 14 of the worlds best custom painters. At Trigger Concepts Paint Farm, camping is allowed so that the learning party never has to end! Tickets will sell out! Don't wait until the last minute!
-Brushmasters Crew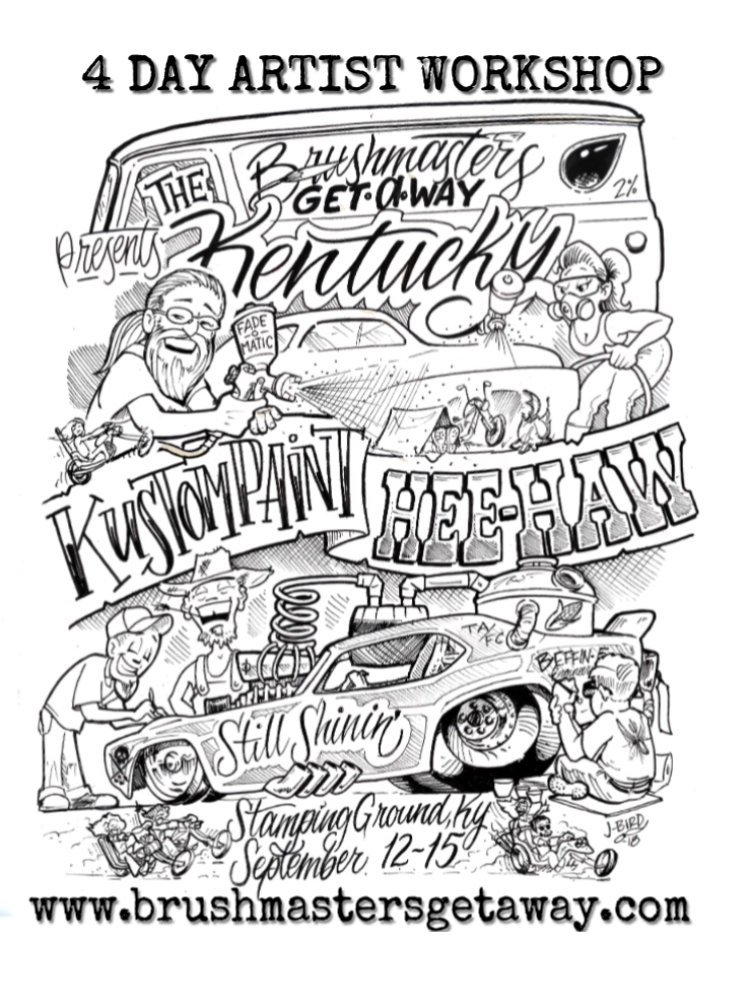 As many of you know we are a traveling workshop circuit, so locations each workshop will change, this year (2018) we head to the beautiful rolling green hills of the South to Georgetown, KY- Stamping Ground, KY.

Here are the event location details for the 2018 Brushmasters Getaway Kentucky Kustom Paint Hee-Haw:

Event grounds:
Trigger Concepts Paint Farm, 1335 Switzer Rd, Stamping Ground, KY 40379

Host hotel location:
Best Western Plus Georgetown Corporate Center, 132 Darby Drive, Georgetown, KY. 40324

Please note if your CAMPING, campers may move in on Sept. 11, 2018 @2pm-7pm if you'd like to setup camp for the week. However you MUST be a registered student for the workshop. No outside campers allowed.

Stamping Ground, Kentucky is located just 8 miles from our host hotel (Best Western Plus Georgetown Corporate Center Hotel) in the beautiful historic city of Georgetown, KY. Georgetown was founded in 1792, named after our nations first president George Washington and is widely known for its historic atmosphere with many of the city's first building still operating. In Georgetown you will find many hotel, food, and nightlife options.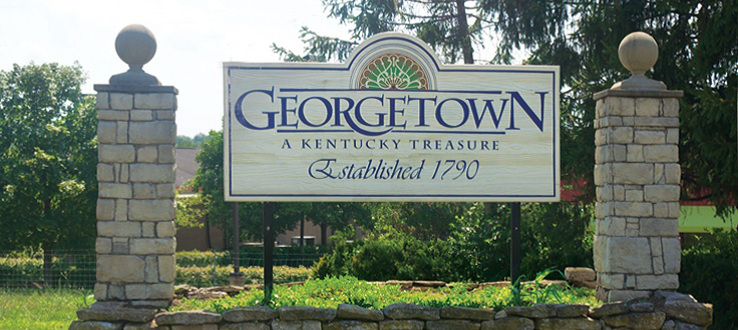 Questions?
If you have any questions feel free to contact us at Brushmastersgetaway@gmail.com!
Buy a ticket
Tickets range from $449 to $899.