Tickets
Our goal at Brushmasters Getaway is to bring some of the worlds top artists to communities worldwide, providing educational seminars and hands on workshops that have never been accessible before! Please Register below for the class that you desire most.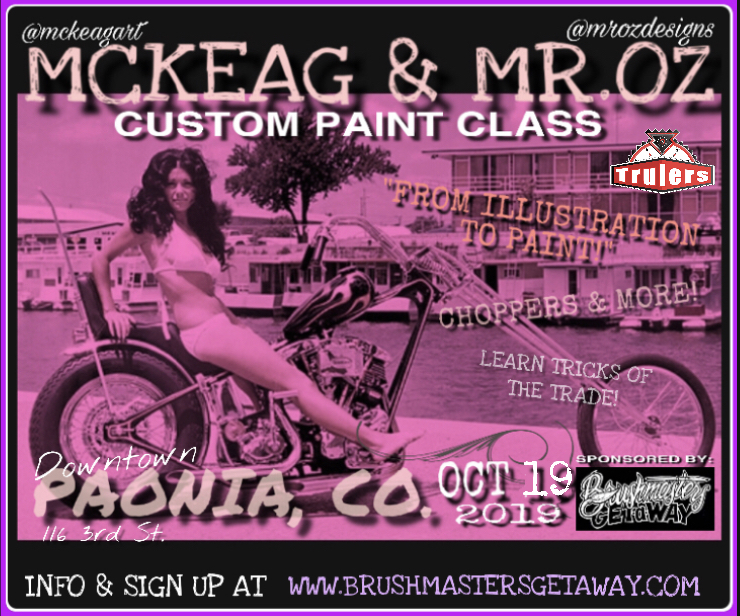 Custom Paint Class - $250
This 1 day class will be instructed by 2 of our talented instructors, Darren McKeag @mckeagart & Cory "Mr.Oz" Mroz @mrozdesigns These instructors are internationally known within the custom motorcycle community & have several years in the custom paint industry. We will start from the basics of illustration & paint layout and end with applying paint to your project & proper sealing for protection using various clearing methods. This class is great for beginners as well as advanced artists looking to push their knowledge a little further. We provide all brushes, paint & canvases for each participant. The class will be held from 2-7pm in beautiful downtown Paonia, CO. at 116 3rd Street within walking distance to many great restaurants, pubs, art galleries & more. $250 per person w/ limited spots available upon instructors request. Remember when singing up, these instructors are coming to teach you, so do not hesitate to ask questions outside the box. We look forward to meeting you all. -Brushmasters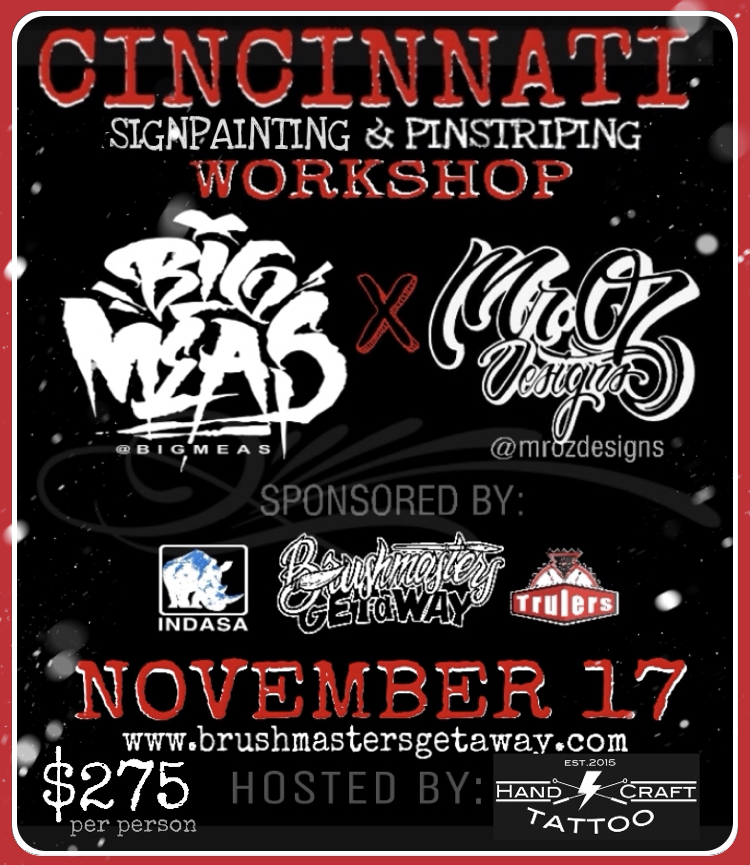 Pinstriping Workshop - $275
BIG MEAS & MR.OZ DESIGNS WORKSHOP will be held in downtown Cincinnati, OH. in the beautiful Hand Craft Tattoo & Gallery at 341 West 4th St. on Sunday, November 17th from 12pm-5pm. In this workshop attendees will learn hand pinstriping & sign painting starting from the basics and working up to more intricate design work as well as proper sign layouts with different fonts & technique. This workshop can advance not only your skills, but also techniques you can implement in your own artwork to get functional use from signage to decor. All supplies will be covered and each attendee will leave with brushes and a goody bag from our sponsors. $275 per person. Limited Availability upon instructors request. @BIGMEAS @MROZDESIGNS
Main Event Tickets
Below are the tickets for the main event: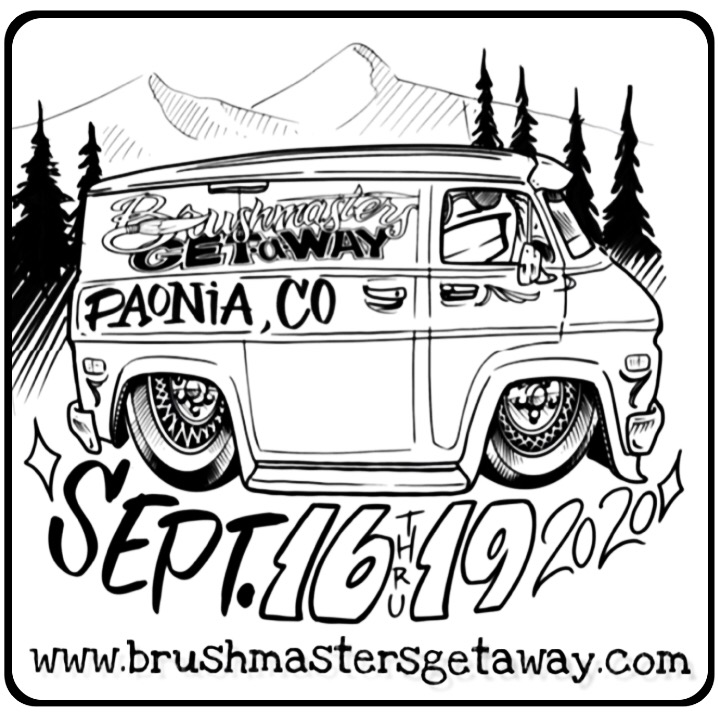 Gold - $449
The Gold pass is our most popular option which allows the pass holder to take every workshop. A gold pass includes as follows:
-4 FULL days of full event access!
-Personal access to each instructor
-1 Brushmasters Getaway Event Lanyard
-4 Mack brushes
-1 Getaway event flier
-1 sponsored goody bag
-Camping pass
-Best time of your life!
VIP - $1150
A VIP pass includes:
-4 Day Hotel Accommodations
-4 FULL days of full event access & VIP access!
-Exclusive "Meeting of the Minds" access
-1 Event print signed & numbered by all instructors!
-VIP access to each instructor
-1 Brushmasters Getaway Event Lanyard
-5 Mack brushes
-1 sponsored goody bag
-1 Getaway T-shirt
-Camping pass
-Best time of your life!
SOLD OUT
No refunds
* VIP Ticket holders will be at the front of each workshop
Checkout
Click to proceed to cart & purchase your tickets.