Instructor Info
*Please keep in mind we do alternate instructors depending on personal lives and schedules. We also will add "Special guests" throughout promotions. In the past we've had names such as Gene Winfield, Alan Johnson, Nappy Roots, Danny D & many more! We assure to keep these events the most interesting & admirable workshop available!
2019-09-16 20:06:05
78
78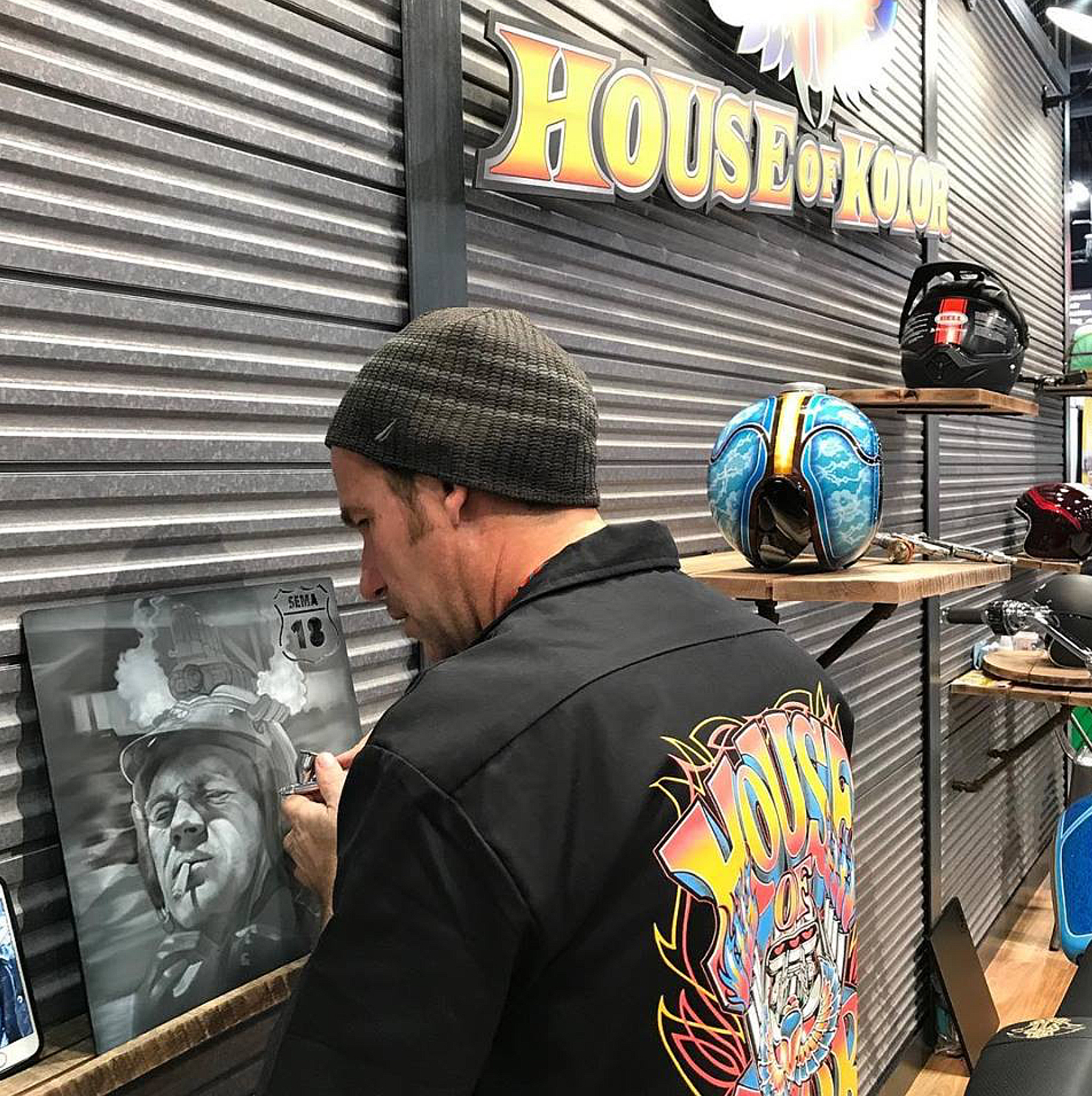 Steve Gibson - @airoilandlead
2019-09-16 20:06:05
83
83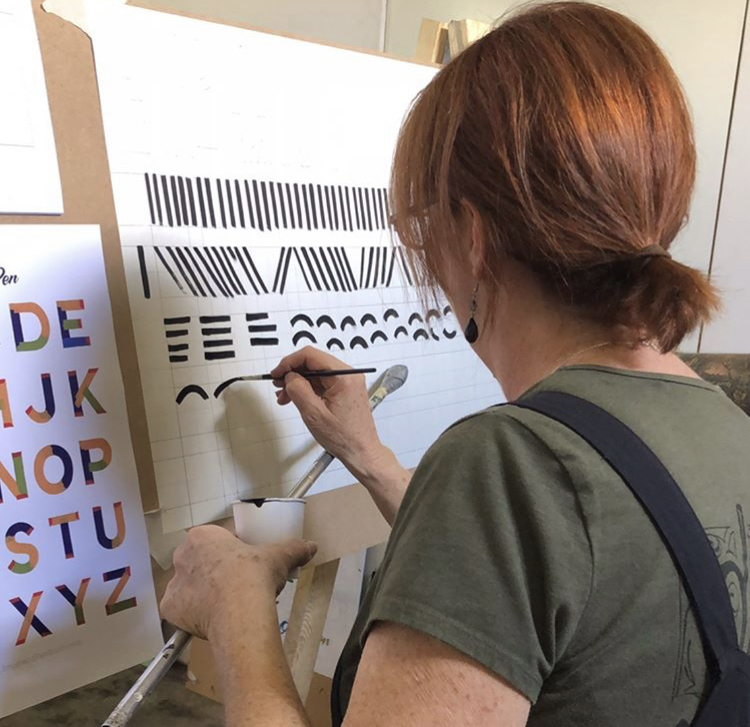 Liane Barker - @brushandpenstudio
2019-09-16 20:06:05
76
76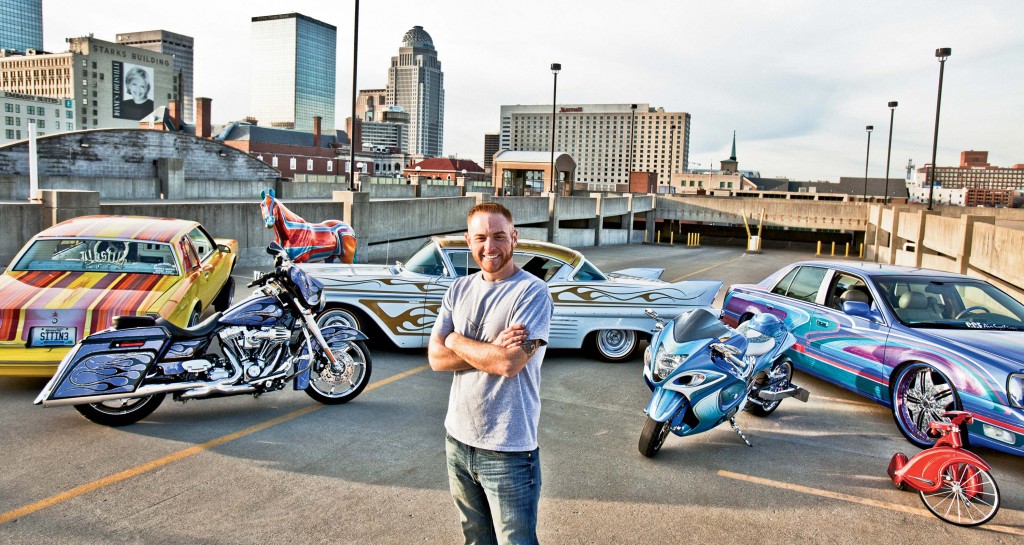 Josh Culver - @culvercustoms
2019-09-16 20:06:05
74
74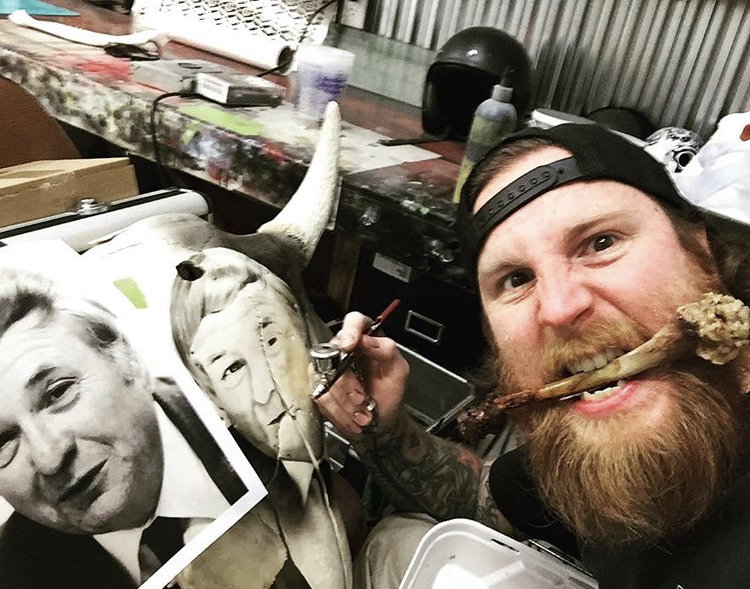 Kristian Baena - @kristianbaena
2019-09-16 20:06:05
73
73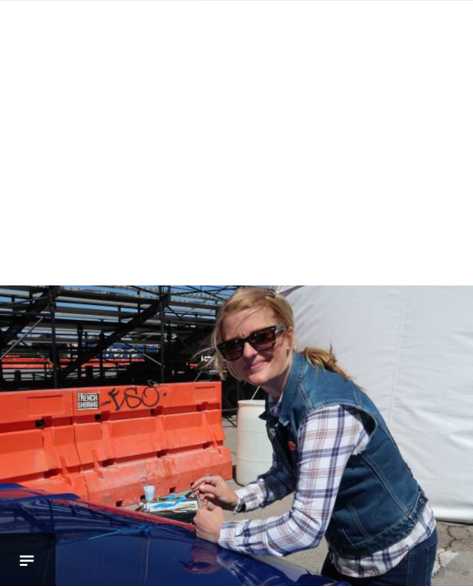 Beth Kearney - @lildamestripes
2019-09-16 20:06:05
72
72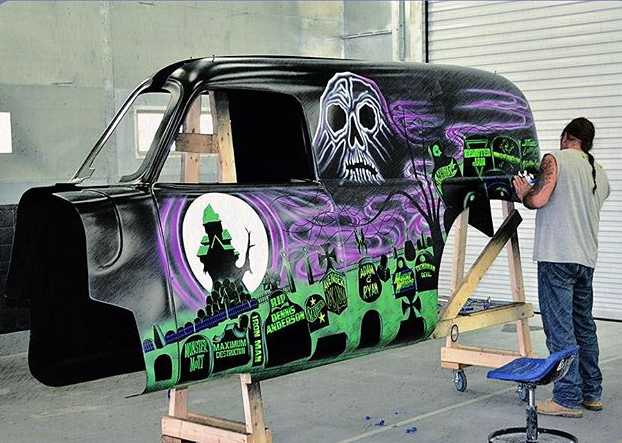 Jim McShea - @mcsheajim_art
2019-09-16 20:06:05
71
71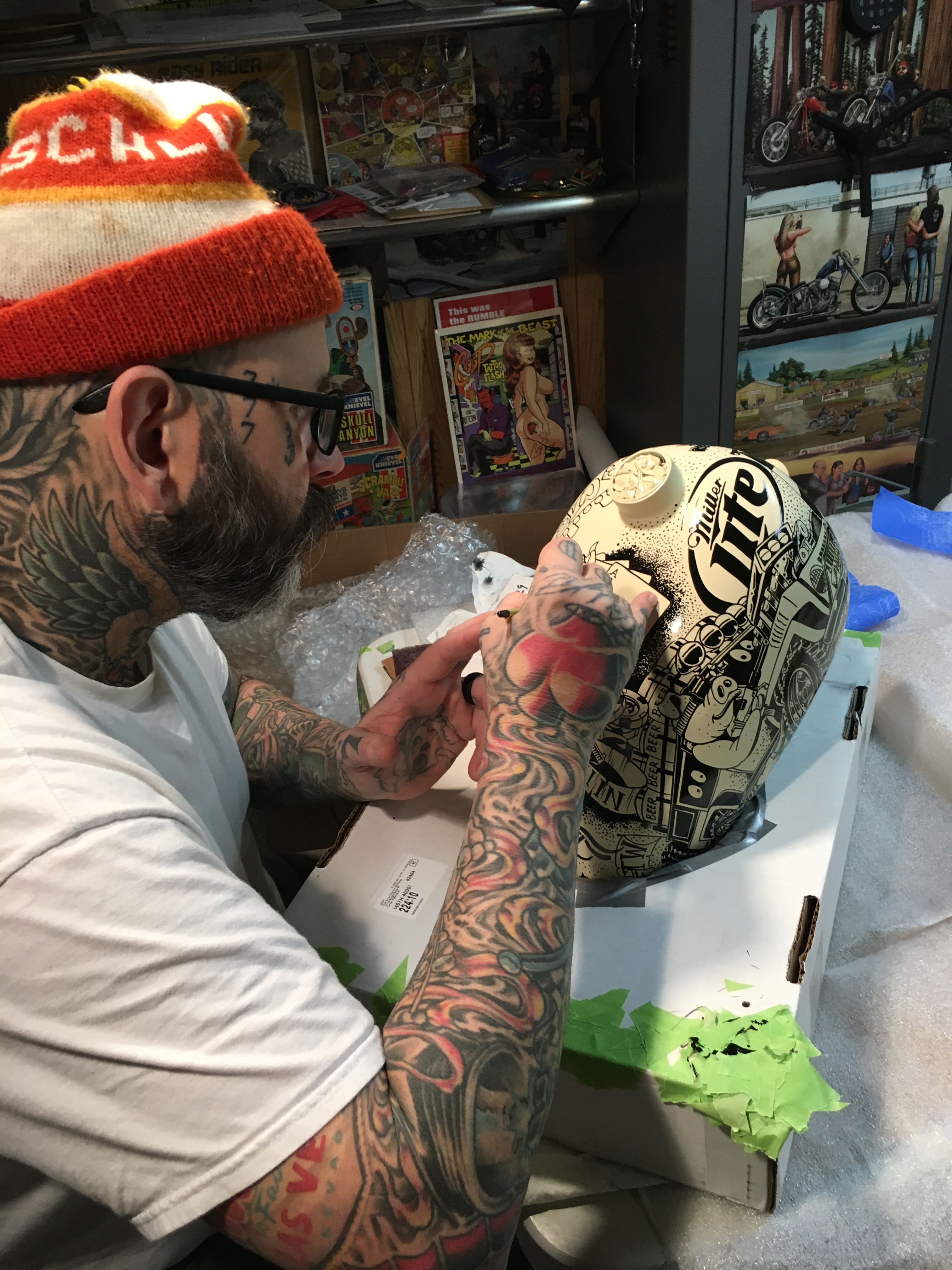 Darren McKeag - @McKeagArt
2019-09-16 20:06:05
70
70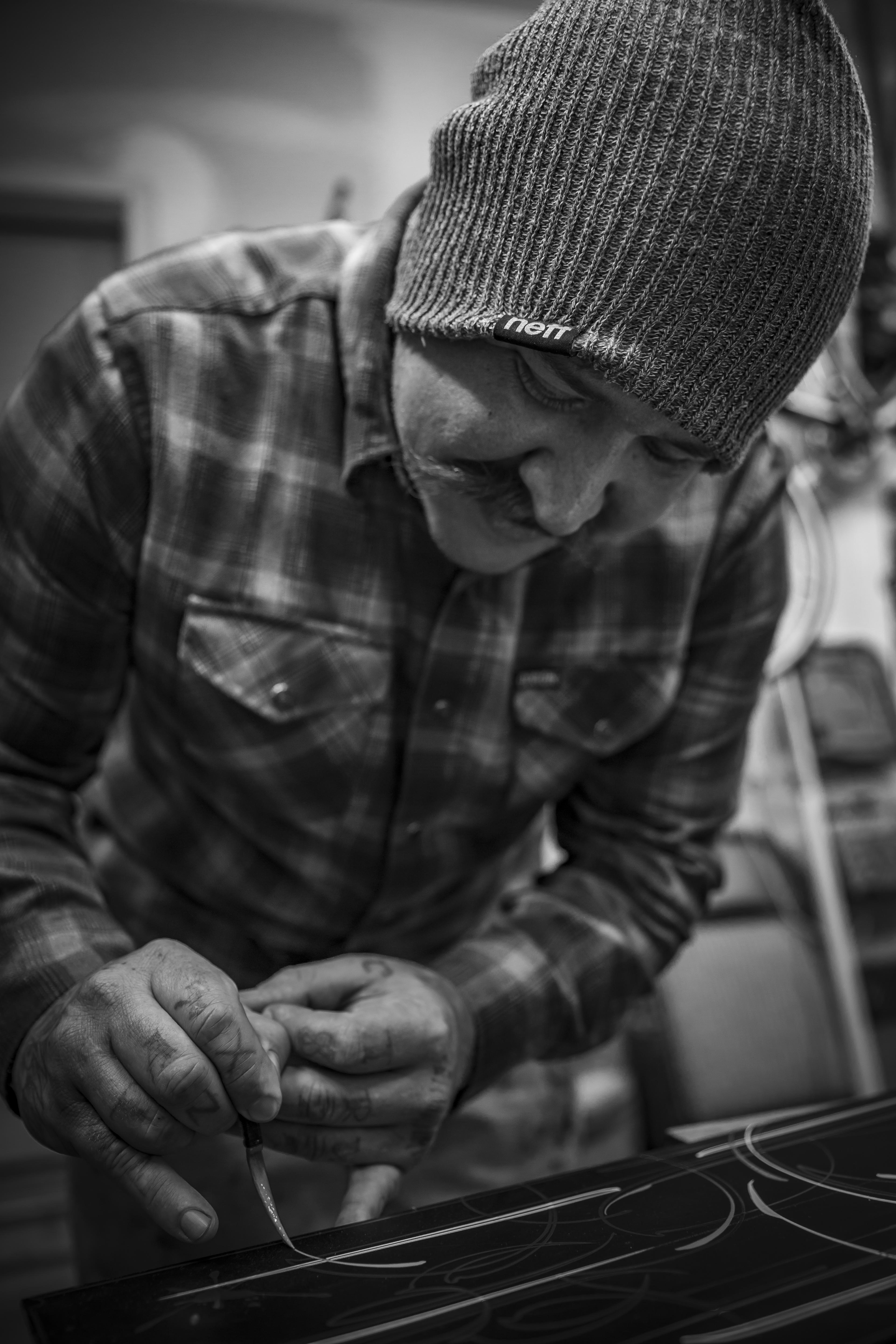 Cory Mroz - @mrozdesigns
2019-09-16 20:06:05
82
82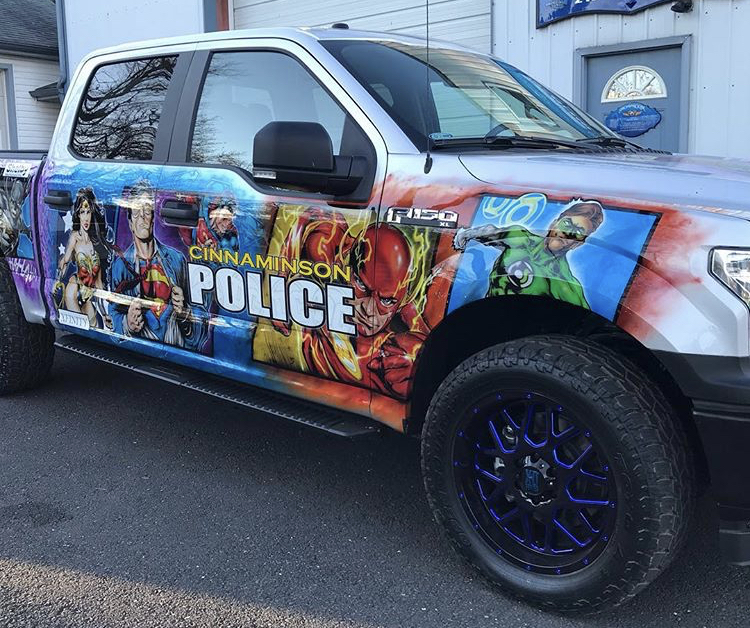 Franny Drummond - @paintzoo
2019-09-16 20:06:05
77
77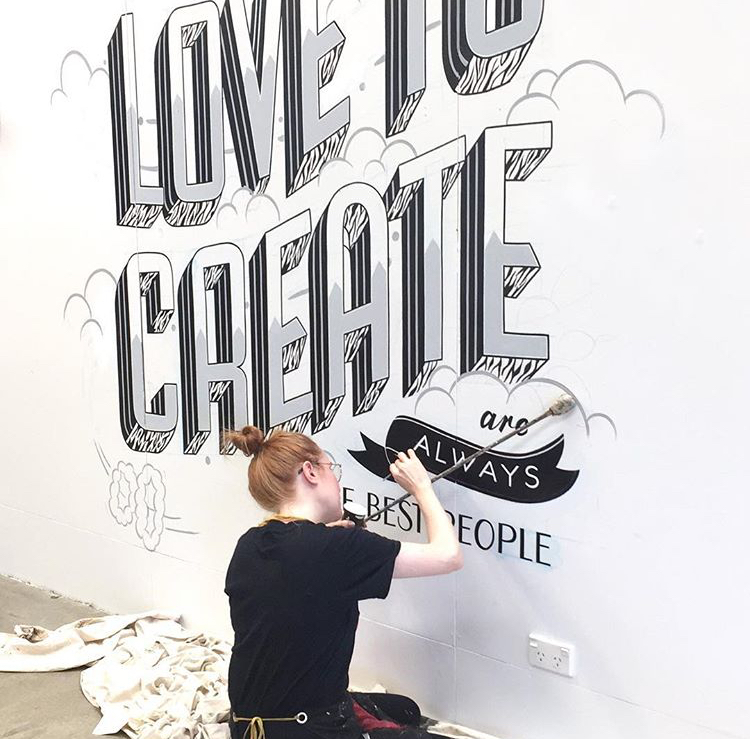 Vanessa Power - @signsofpower
2019-09-16 20:06:05
75
75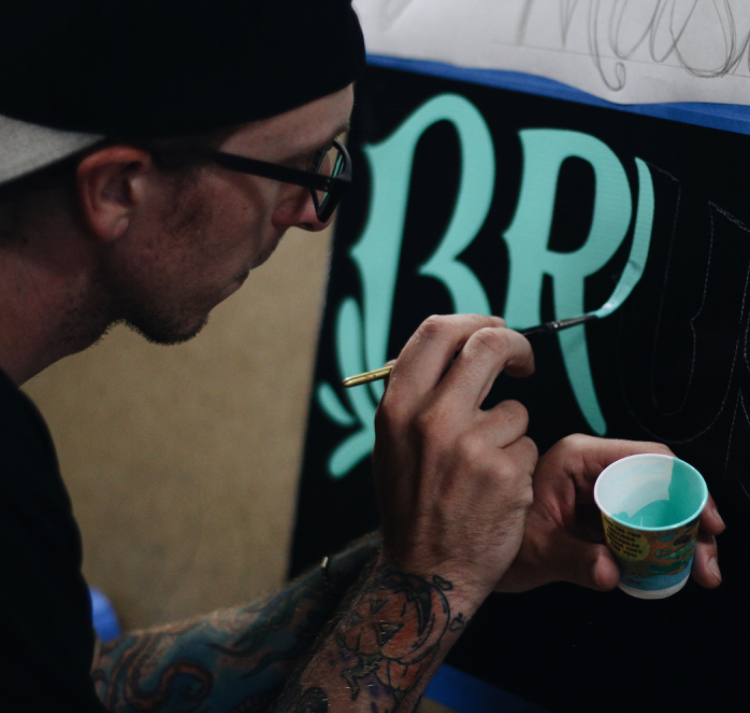 Taylor Nagel - @TopShelfSigns
2019-09-16 20:06:05
81
81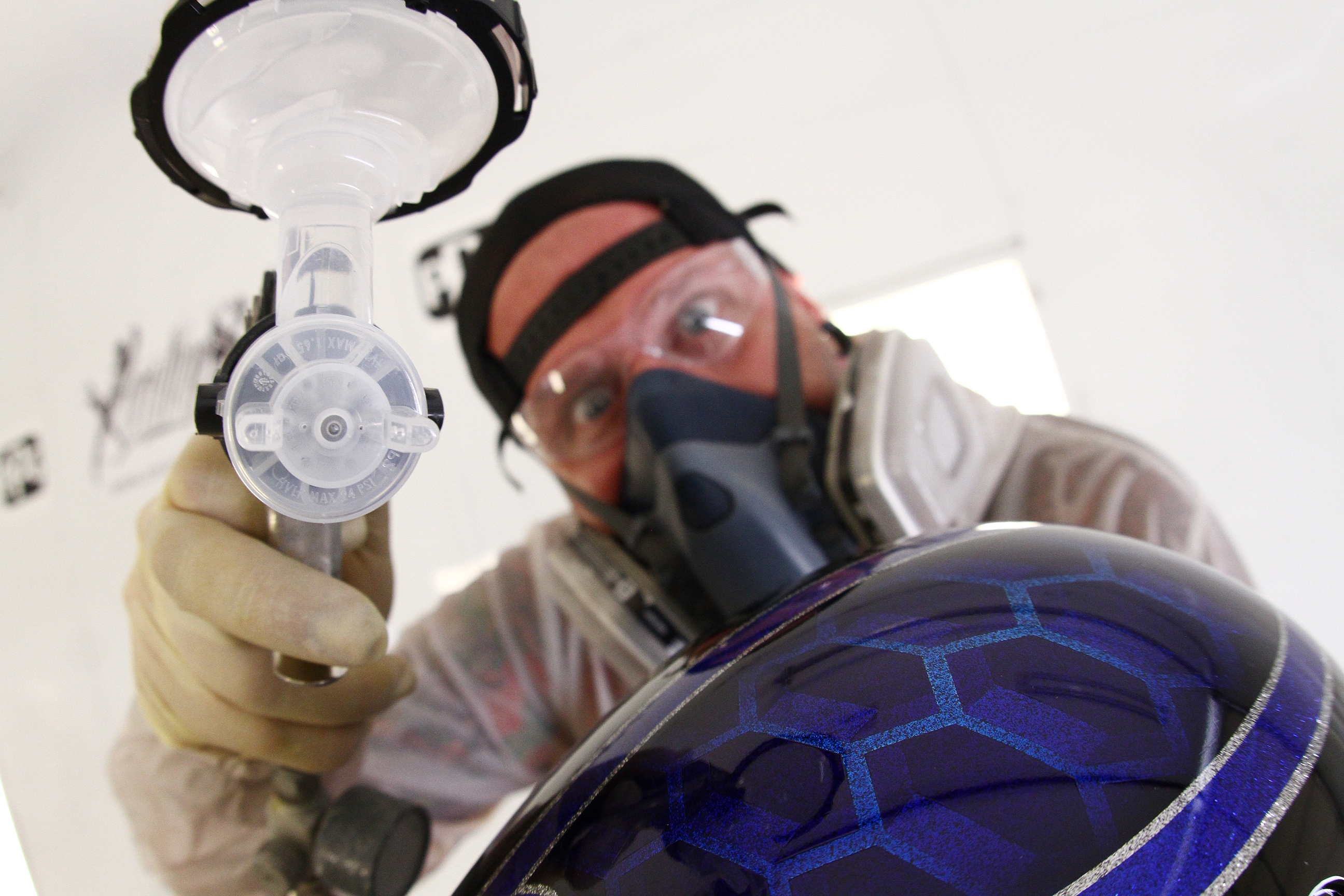 Kyle Morley - @Xecutionstyle
Steve Gibson - @airoilandlead

Steve Gibson is an airbrush artist whose technical abilities are inspired by traditional oil painting. He specializes in automotive murals and portraiture as well as fine art. He has a BA in Fine Art from Flagler College in St. Augustine, FL. His fine art efforts have been recognized by curators from both The Philadelphia Museum of Art as well as The Whitney Museum of Art with selections into group exhibitions in both Long Beach Island, NJ and New York City.
His experimental nature, combined with a colorful and versatile work history make his pieces both highly original in their process and immediately recognizable upon their execution- regardless of subject matter. With a growing list of notable clientelle, demand for his work is ever growing.
Steve is in his 11th year teaching studio classes in traditional approaches to drawing and painting at Cygnus Art Center in Southern New Jersey.

Liane Barker - @brushandpenstudio

In 1980, at the age of 20, Liane became one of only a few female sign writing apprentices in Australia. She was awarded the highest honour of Top Apprentice for Queensland.
Working in her Father's business, Barker Signs, as an apprentice and later as partner, Liane learnt the foundational skills of signwriting as well as a business acumen that has offered her a lifelong career in Signage and Design. At 24 she started her own traditional signwriting and design business in Armidale NSW producing hand painted signage on road side hoardings, large walls, vehicle signage, glass gilding and business shop fronts.
In the mid 80's she was offered the position of Production Manager for a large sign writing/manufacturing company in Brisbane at 27. This was a vast and diverse role that saw the introduction of computer generated signage and a rapid change to the sign industry. It was during this transition Liane made vital industry connections and advanced training giving her the necessary business and computer skills to move forward in what was perceived back then as a predominately male industry. Liane's success over the course of 36 years has been through keeping up with the latest technological advances in the trade as well as retaining her traditional skills and craft providing signage and graphic design to various corporate and private clients.
Her other achievements include, teaching graphics and mentoring high school students, speaking and mentoring women in business, becoming a published author of business magazines articles and writing her first fantasy fiction novel. She recently achieved international acclaim by being selected to take part in the 'Pre-Vinylette Society International Female Signpainters Exhibition' held in Chicago USA in 2017. Being the only Australian female signwriter was a huge honour sparking further her desire to keep the craft of signwriting alive and a passion to pass on her knowledge and experience to others, particularly women interested in the signwriting trade.
In August 2018 Liane flew to London UK to take part in the 'Grand Exhibition of the Pre-Vinylite Society: An 18th Century Revival' She looks forward to working with all of you honing your lettering skills at the 2019 Brushmasters Getaway 2019!

Kristian Baena - @kristianbaena

Peachtree City, GA.
Kristian Baena has been a custom airbrush artist, painter, pinstriper and fabricator for well over a decade working with names such as Ford Motor Company & Zach Brown Band. He is known for his realism and amazing detail. Kristian is currently expanding his graphics skills and is always looking

Beth Kearney - @lildamestripes

Loveland, Colorado
Beth Kearney based out of Loveland, Colorado is a full time pinstriper with over fifteen years experience in custom pinstriping, graphics and leafwork. She specializes in tight designs, with super fine lines. Whether it's a car, bike, fire engine, or art piece, Beth always gives the job 110% and prides herself in clean unique work on each job. Published in numerous magazines you may have seen her work grace the pages of Auto art, Sign Craft, the Horse, and Cycle Source. -Beth

Jim McShea - @mcsheajim_art

Bradenton, Flordia
My name is Jim McShea formely of Jims Lettering an Grafix. I was born an raised in New Jersey. I'm 59 and a self-taught artist. I was self employed for 27 yrs. I was approached by Feld Entertainment a year ago, an took a position as a senior paint automotive specialist. Translation, i paint the Grave Digger monster truck. Ive bin painting Grave Digger for 19 yrs. now. Feld was shipping bodies to my shop in Jersey, then they started flyin me back an fourt for approx 4yrs. They finally offered me a position an told me they wanted me in house. I moved to Bradenton FL an work in Palmetto home of Feld Entertainment a year ago. Ive lettered an painted custom signage, comercial trucks, dragcars, funnycars, pro-mod dragbikes, harley's , hotrods an monster trucks! I totally love and enjoy painting, striping etc... i started out painting out of chicken coupe some 28 years ago an now i work for one of the biggest entertainment companies in the world, painting the most popular monster truck in the world ... I am truly honored to be a part of Brushmasters Getaway 2018 !! Thank you James R McShea 3rd.

Darren McKeag - @McKeagArt

Cedar Rapids, Iowa
Hello, my name is Darren McKeag. Most of my art is a compilation of motorbike influenced art, however, I do hot rod inspired art as well. I've been an illustrator all of my life, and have tattooed for the last 30 years. For the past 11 years, I have worked mainly with enamel paints, in addition to tattooing. All of my enamel paintings are done by hand, with a brush. I also enjoy working in other mediums, such as acrylic, pen and ink, colored pencil and limited edition screen printed posters. Ranging from complete motorbike paint jobs, helmet paint jobs, pinstriping to t-shirt and event poster designs and even logo designs, the spectrum of my art is very broad. Again, thanks very much for viewing my art...
Cheers
Darren

Cory Mroz - @mrozdesigns

Pagosa Springs, Colorado
Cory Mroz aka "Mr.Oz" is an artist typically dabbling in automotive related paint and large lettering projects. He's been in the automotive paint industry for 17 years with great success nationally and internationally. Much of "Mr.Oz's" work have landed the pages of magizine publications worldwide such as: Ol Skool Rodz, Street Rodder Magazine, Minitruckin, Drop Jaw, Easyriders, The Horse, Hot Bike magazine, Ironhorse, Cyclesource, Gnarly Magazine and Hot Rod Magazine.

He's won numerous paint awards worldwide with his most recent winnings in Abu Dhabi at Custom Emirates Show for Best Paint. Recently appearing on Discovery channels hit tv show American Chopper painting numerous projects for Orange County Choppers as well being awarded Cycle Source Magazines 2018 Artist of the Year. From celebrities to normal folks Mr.Oz looks forward to working with new clients often & treats all with open arms. Pinstriping, Signs, Custom Paint & more he offers a wide variety of art you can obtain for yourself. He looks forward to working with each attendee at the Brushmasters Getaway!



Franny Drummond - @paintzoo

My name is Franny Drummond, owner of Paintzoo Studios located in Langhorne,PA. I specialize in custom paint and airbrush art since 1999.

• Artist on Extreme Makeover
• Custom painter for NHL teams such as The Philadelphia Flyers and Minnesota Wild and Detroit Redwings to name a few.
• Featured in Easy Rider magazine
• Cover and spread in Bagger magazine 2019
• Custom painter for Orange County Choppers 2018-2019

I have worked with many varieties of clientele, from pinstriping a helicopter for a Red Bull stunt pilot, to the goalie mask worn by the USA girls Olympic team. I also offer my services pro bono to numerous charities and fundraisers around the world!

In addition to being a custom artist I am a father of three. I enjoy camping, going to the beach and cruising around in my 67' Volkswagen bug, I look forward to meeting you and helping you excel with your art at Brushmasters Getaway 2019.

Vanessa Power - @signsofpower

Dublin, Ireland
Hi, I'm Vanessa, a sign painter from Dublin, Ireland. I started my sign painting business 'Signs of Power' in 2014 and I've been hard at it painting letters ever since.

Working mainly in 1 Shot enamel paints. And with a love for clean, well executed type I aim to apply this to all my work. My style is in bright, bold lettering, whilst trying to experiment with shading effects where I can. Referencing 20th century type sample catalogues, other sign craftsmen, contemporary design and ephemera.

I paint a variety of signs from smaller boards, to shop fronts and windows to larger scale hand lettered murals. I also dabble in gold leaf, both for glass and boards. I've been commissioned to paint for Facebook Ireland, Jameson Whiskey, Twitter Ireland, Guinness, several leading Irish design agencies, local cafes, pubs, restaurants, and many more.

And I can't wait to come to the US to teach at this years Brushmasters Getaway.

Taylor Nagel - @TopShelfSigns

Saginaw, Michigan
Hey guys! It's Taylor from Top Shelf Signs. I'm a one man sign shop out of Bay City, Michigan. I grew up traveling the carnival circuit with my family's concession business. I would watch old timers out on the midway paint rides and trailers. I didn't know it back then but those dudes were shaping me into a paint huffin, 1Shot slangin painter.

In 2011 I met a guy that goes by Left Foot Willy. He taught me about brushes, techniques, paints, and all that other good stuff. Shortly after he took me down to Florida to paint carnival trailers with him. We spent a couple months spilling paint and talking shop over cotton candy and carmel apples. After painting 10 hour days, everyday on that trip and getting more and more stoked about it I realized what i was meant to do.

Ever since then I've put all my time and energy into getting better at my craft. I usually spend 8 to 12 hours a day at my shop just trying new things and creating new signs. It's safe to say you'll find me in the same position until I'm old and bald like an eagle, soaring over cans of 1Shot and perching up on the highest Mack brush. I like to forward to helping you with your skill at Brushmasters Getaway! -Top Shelf Signs

Kyle Morley - @Xecutionstyle

I'm Kyle Morley & I operate a paint studio in New Jersey called XecutionStyle kustom paint. With close to 20 years experience behind the gun I established the skills necessary to run a successful custom paint shop with 15 of those years being in the body shop. This foundation gave me the base to build my reputation on. I'm best known for producing 3-dimensional, eye-catching graphics using a variety of different textures including metal flakes , pearls and kandies , I've been fortunate enough to have my work grace the pages of magazines such as Hot Bike, Baggers Mag, Xtreme Bikes, American Bagger, Cycle Source, Urban Bagger, Iron Horse, PPG Repaint Reporter , Airbrush Action and now Gnarly Magazine. Some of my clients include Misfit Industries, Sik Pipes, DA performance ,Curlys custom cycles, TOL designs,GEICO motorcycle insurance , Ray Price Harley Davidson Paul JR. Designs & Pinup baggers just to name a few. I also work closely with PPG refinish, Painthuffer Metal Flake, 3M collision , FBS custom fineline tapes, Iwata Medea and RTI Technologies,Rotogen & Trulers.
Questions?
If you have any questions feel free to contact us at Brushmastersgetaway@gmail.com!